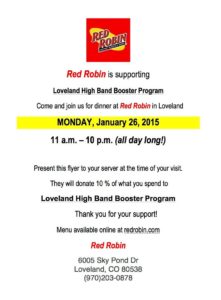 It's time for a family dinner night out with the Loveland High School Bands again. Red Robin is generously supporting our great program with a 10% contribution from your total order! This is an all-day opportunity and we hope to see you all there. Don't forget to purchase your ScripNow for an extra 9% return. If you have any questions about Scrip, let us know- lhsfundraisingvp@yahoo.com.
Where- Red Robin, Loveland- 6005 Sky Pond Dr., 80538 (Promenade Shops at Centerra)
When- Monday, January 26th- 11 a.m. to 10 p.m. (ALL DAY LONG!)
Don't forget to print your flyer and present it to your server.